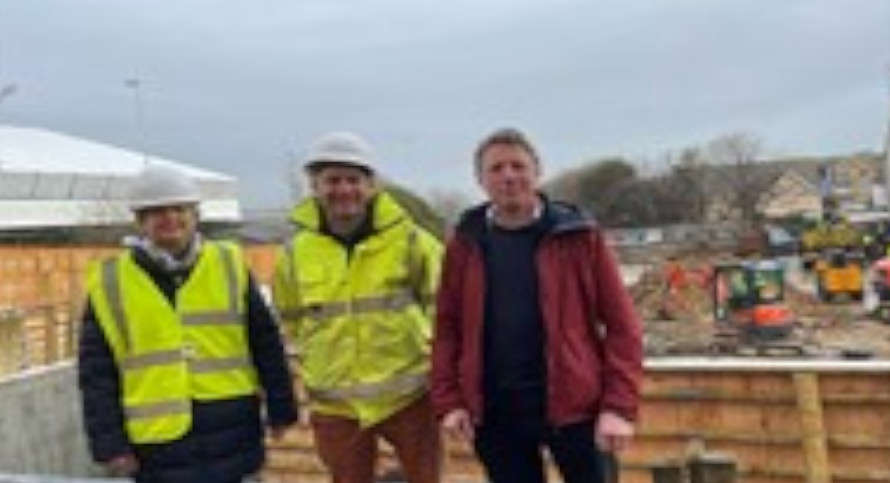 The Leader of Lewes District Council visited the site of the old police station in Newhaven this week to see how work is progressing to turn the well-known landmark into new affordable homes.
The development will consist of 15 two-bedroom and four one-bedroom apartments and two three-bedroom houses. A ground floor flat will be purpose built for wheelchair users and 11 other flats will have added accessibility and increased scope for adaptations.
The properties are 100% electric and benefit from other sustainability features, including high insulation specifications, a green living roof and large bicycle store to assist sustainable travel.
Councillor James MacCleary, Leader of Lewes District Council and Newhaven Town Councillor, said:
"The old police station had been identified as a potential site for development some time ago, so to now have construction in full flow is fantastic news.
"I've spoken before about the need to keep building momentum in Newhaven around new infrastructure projects and with the council's redevelopment of the old Co-op building into a new health and wellbeing hub, a new start for the old UTC building progressing and work underway to greatly improve the Dacre Road Car Park, it really feels like our plans are coming together."
The new residents will be able to take advantage of the central location and the access it offers to shops and public transport links and if needed, a parking permit system utilising nearby council-owned car parks.
Councillor William Meyer, Cabinet Member for Housing, said: "The transformation of this old police station into high quality council homes is regeneration in action for Newhaven and great to see.
"When you consider the financial constraints all councils are working within, I think it is quite remarkable that Lewes District Council is finding a way to build the homes so many of our residents so desperately need."
Published on March 14, 2023.